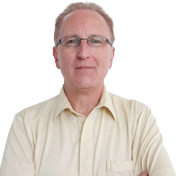 About me
Hi I'm Barrie.
I spent many years in international sales, being lucky enough to spend time in most parts of the world and driving in many of them - in many cases a very "interesting" experience. I have always been a high mileage driver, at one point working as a chauffeur for two years. I live with Yvon, my partner of over 30 years and our "family of 2 cats or "the girls" as we call them. Interests outside of work involve horse racing, theatre and cuisine - though I say it myself I am a pretty good cook.
Some people see driving as a necessity - some as a pleasure. Personally I have always enjoyed driving and it is a constant pleasure to be able to teach other people - whatever their reason for wanting to learn.

I am a fully qualified Government Approved Driving Instructor (ADI) and I am passionate about road safety.
I became a driving instructor because I wanted a job with real satisfaction and there is nothing better than seeing someone pass their test first time. I was also always being told by friends and work colleagues that I was a calm and relaxed type of person and that I would make a great Driving Instructor.
I was fortunate to be trained by LDC in the latest adult coaching and training techniques so you can be assured the training I give will be of the highest standard.

I chose to work with LDC because everybody is different and the LD system allows for flexibility in lessons so that you learn to drive safely at a rate that suits you. I aim to make every lesson enjoyable and as productive as possible. The LD system just helps me to do this more effectively.
Lessons are always conducted in a calm, friendly and relaxed manner as I firmly believe in making pupils feel at ease during lessons.
Well I hope this gives you a brief Idea about me so please feel free to click here to "Contact me"